Online English Language Development (ELD Level 2)
Module: Level 2 Collaborative Speaking and Listening
The Collaborative Listening and Speaking module covers the language skills necessary for students to interact in meaningful ways. This means being able to have relevant and intellectually-challenging discourse in various contexts and modes of language (collaborative, interpretive and productive).
Students will also have the opportunity to learn and practice language skills needed for academic success in core content areas. Embedded self-recording exercises and writing assignments enable students to apply new skills.
Skill Area
Examples of Topics Covered
Collaborative

Supporting opinions and persuading others
Interacting via longer text exchanges with peers
Adapting language choices according to purpose, task and audience

Interpretive

Reading/listening closely – explain ideas, make inferences and determine unknown words
Evaluating language choices used to express ideas and support arguments
Analyzing language choices, including figurative text and shades of meaning

Productive

Presenting on a variety of topics using supporting details and evidence
Writing different text types and summaries
Justifying/arguing using evidence and background knowledge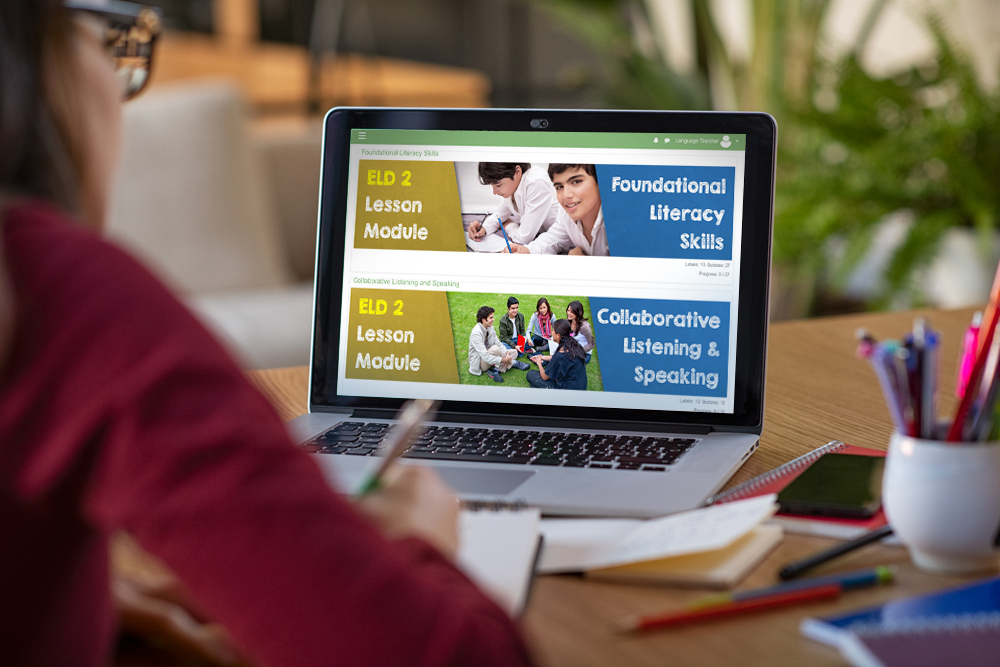 Standards-based online curriculum and downloadable teacher resources and online writing exercises
Scaffolded instruction throughout builds on previously-taught concepts
Video input with interactive exercises output to enable practice and progress tracking
Multi-sensory techniques – text, audio, video and images – provide equity and access for all English learners
Developed by a National Board certified ELD educator and evaluator for the English Language Proficiency Assessment of California (ELPAC)
Sample Screens
Click to enlarge and browse
Contact us about solutions for your school or district. We will be touch within 24 hours.