Online English Language Development (ELD Level 2)
Module: Level 2 Language Function and Construction
The Language Function and Construction module focuses on teaching critical structures of the English language. With this understanding, multilingual learners can write more clearly, and with better coherence and cohesion. This module also develops awareness of available language resources (structure, organization, and meaning) that help make students better writers.
Skill Area
Examples of Topics Covered
Structuring Cohesive Text

Applying understanding of text structures to write more coherently
Applying knowledge of pronouns, synonyms and connecting words to write with more cohesion

Expanding and Enriching Ideas

Using verbs in a variety of tenses appropriate to the text type
Enriching meanings of sentences using noun phrases
Expanding sentences with adverbial phrases to add details

Connecting and Condensing Ideas

Combining clauses to make connections between ideas and to join ideas
Condensing ideas in a variety of ways to create precise and detailed sentences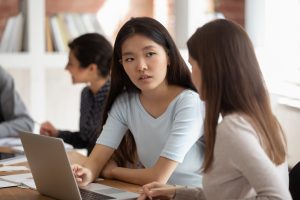 Aligned with the latest English language development standards
Engaging video input together with interactive exercises output
Online writing practice can be done in the classroom or at home
Multi-sensory techniques – text, audio, video, and images – provide equity and access for all English learners
Built-in progress monitoring
Contact us about solutions for your school or district. We will be in touch within 24 hours.