Online English Language Development (ELD Level 1)
Newcomers Face Special Challenges
English learners enter our classrooms with varying degrees of literacy. Some may not even be fully literate in their native language due to interrupted education. Newcomer students face the additional challenge of navigating an unfamiliar school environment and a new culture.
As an ELD/ESOL educator, you have your own set of challenges. Students can arrive at any time throughout the school year. How can you successfully integrate a continuous stream of new students while also making sure the rest of your students stay on track? This is no easy feat, but Language Tree Online can help.
The Language Tree Online Level 1 program can be used for small-group tutorials, whole-class instruction, and independent learning. Everything you need for instruction, intervention, and practice is included.  Furthermore, our unique American School Culture module transfers practical knowledge and cultural norms to help your newcomer students feel more confident and comfortable.
Effective ELD Resources for Beginner English Learners and Newcomers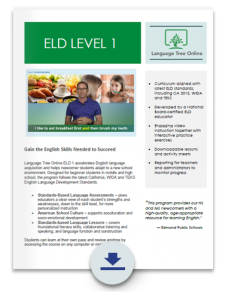 ELD Level 1 is a standards-based digital English Language Development curriculum designed to:
Assess individual English learners in language skill areas tied to the latest ELD standards, including WIDA 2020, CA 2012, Texas ELP, Lousiana, and NYS Next Gen ELA
Accelerate acculturation and understanding of school norms so newcomer students gain confidence and a sense of belonging
Help English learners progress to the next level of  proficiency by preparing them for statewide proficiency assessments (ELPAC, TELPAS, ACCESS for ELL, and more)
The five modules in ELD Level 1 can be used to support whole class or small group instruction. Our web-based program can also be used by students in the classroom to maximize productive time or at home for independent, self-paced learning.
Contact us about solutions for your school or district. We will be in touch within 24 hours.