Online English Language Development (ELD)
Standard-Based Curriculum for English Learners
The Language Tree Online ELD 1 program accelerates English language acquisition and helps newcomer students adapt to a new school environment. Designed for beginner students in middle and high school, the program follows the latest California, WIDA and TEKS English Language Development Standards.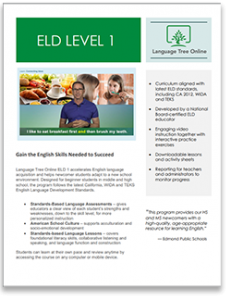 Standards-Based Language Assessments – gives you a clear view of each student's strengths and weaknesses — down to the skill level — for more personalized instruction
American School Culture – supports acculturation and socio-emotional development
Standards-Based Online Lessons – covers foundational literacy skills, collaborative listening and speaking, and language function and construction
Downloadable Lessons and Activities – get proven in-class lesson plans and activities for small group or whole class instruction
Students can learn at their own pace and review anytime by accessing the course on any computer or mobile device.
"The Consortium on Reaching Excellence in Education (CORE) is excited to provide professional learning and coaching services to educators using Language Tree Online to help accelerate language proficiency for English learners."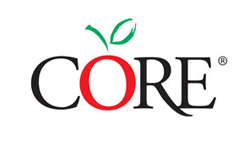 "This program provides our HS and MS newcomers with a high-quality, age-appropriate resource for learning English."
— Edmond Public Schools
English Language Development for Newcomers and Emerging Level Learners
Our ELD Level 1 course  is a comprehensive online English Language Development tool designed to:
Assess the strengths and weaknesses of individual English learners in literacy areas tied to the latest ELD testing standards
Accelerate acculturation and understanding of school norms so Newcomer students gain confidence and a sense of belonging
Help secondary level English learners progress to the next level of English language proficiency