Close Alignment with WIDA 2020
Are you a school or district in a WIDA state? Then you'll be glad to hear that the Language Tree Online ELD programs are closely aligned with WIDA ELP standards. Here is how we address the four "Big Ideas" as outlined in WIDA 2020:
Equity of Opportunity and Access through culturally-relevant pedagogy, scaffolded grade-appropriate content, and opportunities for collaborative listening, speaking, and writing.  
Integration of Content and Language with language lessons that integrate academic content across sciences, math, and social studies.
Collaboration of Stakeholders by inviting teachers, administrators, and parents into the program and giving visibility to where each student may be struggling.
Functional Approach to Language Development by teaching how language is used for specific purposes, audiences, and situations.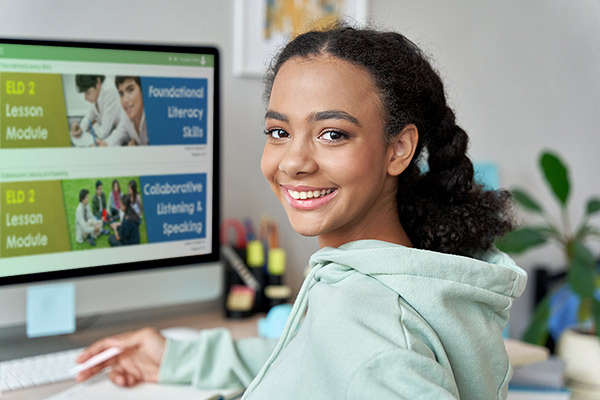 Grade and Level-Appropriate ESOL Curriculum
Our ESOL curriculum focuses specifically on the needs of multi-lingual learners in grades 5-12. It features realistic peer-to-peer interactions and topics relevant to teenage learners.
We offer two programs that cover language development expectations across proficiency levels.
ELD Level 1 is designed for Newcomers and beginner-level English learners with 0-24 months of ESOL study (see WIDA Prime V2 Correlation)
ELD Level 2 is suitable for intermediate-level learners (2+ years of study) and LTELs who are struggling to achieve re-designation

The new WIDA 2020 proficiency levels reflect the idea that language development is not linear. Students will have strengths and weaknesses in different proficiency areas. Our comprehensive combined Level 1 & Level 2 program gives educators the flexibility to assign relevant modules to students to support individualized instruction.
Learn more about important updates to the WIDA framework. Watch this video featuring Mia Ariela Allen, founder of EduLiber and 4Ed Consulting. As a former WIDA correlation consultant, Mia will share her insights on:
The five WIDA Standard Statements
How does WIDA 2020 differ from the previous version - what's new and what has stayed the same
How do these changes impact instructional design and how do we support our students' content and language development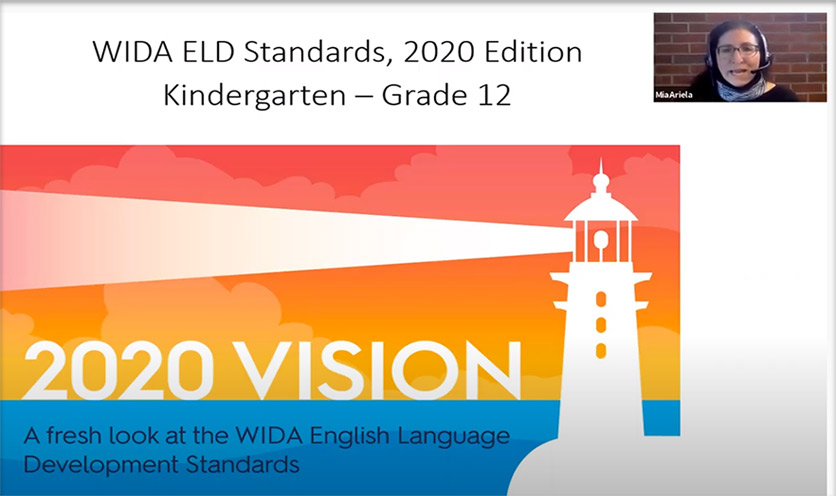 Contact us to learn more about how we can support your school or district.  We'll reply within 24 hours.